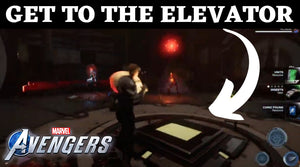 Get To The Elevator Avengers - Captain America Mission - Reach The Elevator Marvel Avengers Game
During the iconic mission for Captain America in Marvel Avengers game, you will need to get to the elevator. You are stuck in a room with the a timer and enemies that won't stop spawning.
This quest can be quite a pain if you don't know how to open the door to get the the elevator. This quest guide will show you how to reach the elevator. 
You can watch this quick video to show you how to get to the elevator as Captain America or continue reading for further instructions during this Captain America iconic chain mission.
Before you leave the room be sure to loot the chest in the room which is on the right of the room as you enter. It can be a bit hectic with all the enemies spawning but you should be able to get a quick break to loot the strongbox.
After you loot the chest then you really want to get to the elevator as the time is running out. You need to stand on the middle of the room on the pressure plate.
Once you're standing on the pressure plate in the middle of the room, use your shield to throw at the 2 buttons on either side of the door that leads you to the elevator.
Once you throw your shield at both of the glowing yellow buttons the door will open and that's how you get to the elevator and reach the elevator. Congratulations on completing this iconic mission for Captain America
---