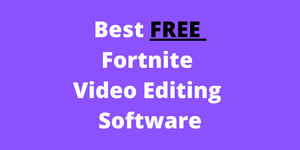 Best FREE Fortnite Video Editing Software
Looking for a way to get your epic Fortnite clips looking even better? Have you seen some Fortnite videos on YouTube and wondered how they edit their videos?
We have a editor that is both professional and FREE and will make editing your Fortnite videos a breeze!
Benefits of editing your Fortnite videos for YouTube
With the player base of Fortnite growing every day and countless Fortnite videos are uploaded to YouTube, you need a way to stand out from the rest.
It's hard to get noticed when everyone is doing uploading similar Fortnite clips. All the clips begin to look the same after a while.
What if you could edit your Fortnite videos and give them a little sparkle, compared to the rest? 
Free Fortnite video edit
ing software
So now you're probably thinking that you want to edit your videos, but have no idea what editing software to use.
If you are on a Mac you can use iMovie and if you are on Windows you can use Video Editor. Both of these programs are free and you don't have to download them because they both come with your machine.
If you are looking for a more professional editor for your Fortnite videos then you can download Da Vinci Resolve, which is also free.
Fortnite video editing tutorial
Here is a basic tutorial using Da Vinci Resolve showing to edit your Fortnite videos with the software.
Goodluck with your Fortnite edits, hopefully you make it big! 
Follow us for more Pro Gaming news and advice to help your gaming career!
Stuck on ideas for what gaming videos to make? Check out this article for 33 gaming video ideas that you can start making today.
Wondering why you're videos aren't getting any views? Check out this article for 3 reasons why you aren't getting any views.
Looking to start a YouTube channel but don't know what equipment you need? This article goes over the best microphone and camera to start your content making career.
---
10 comments